Better Gear: 
The ultimate in travel backpacks. The 60L Khmer Explorer has been designed to optimize your travel experience in style without sacrificing the space required to carry all of your gear.
Khmer Explorer Travel Set includes: 
60L Khmer Explorer Travel Backpack;
The Easy-Clean Dirty Laundry Bag; and
Two Integrated Packing Cubes. 
Better World:
Each Khmer Explorer travel backpack supports the education of a child in Cambodia for one year: a unique contribution that is incorporated into the design of every Khmer Explorer. 
*This is a limited quantity pre-order scheduled to arrive in mid to late May 2018. Please see Pre-Order tab for full details and estimated delivery timeline.*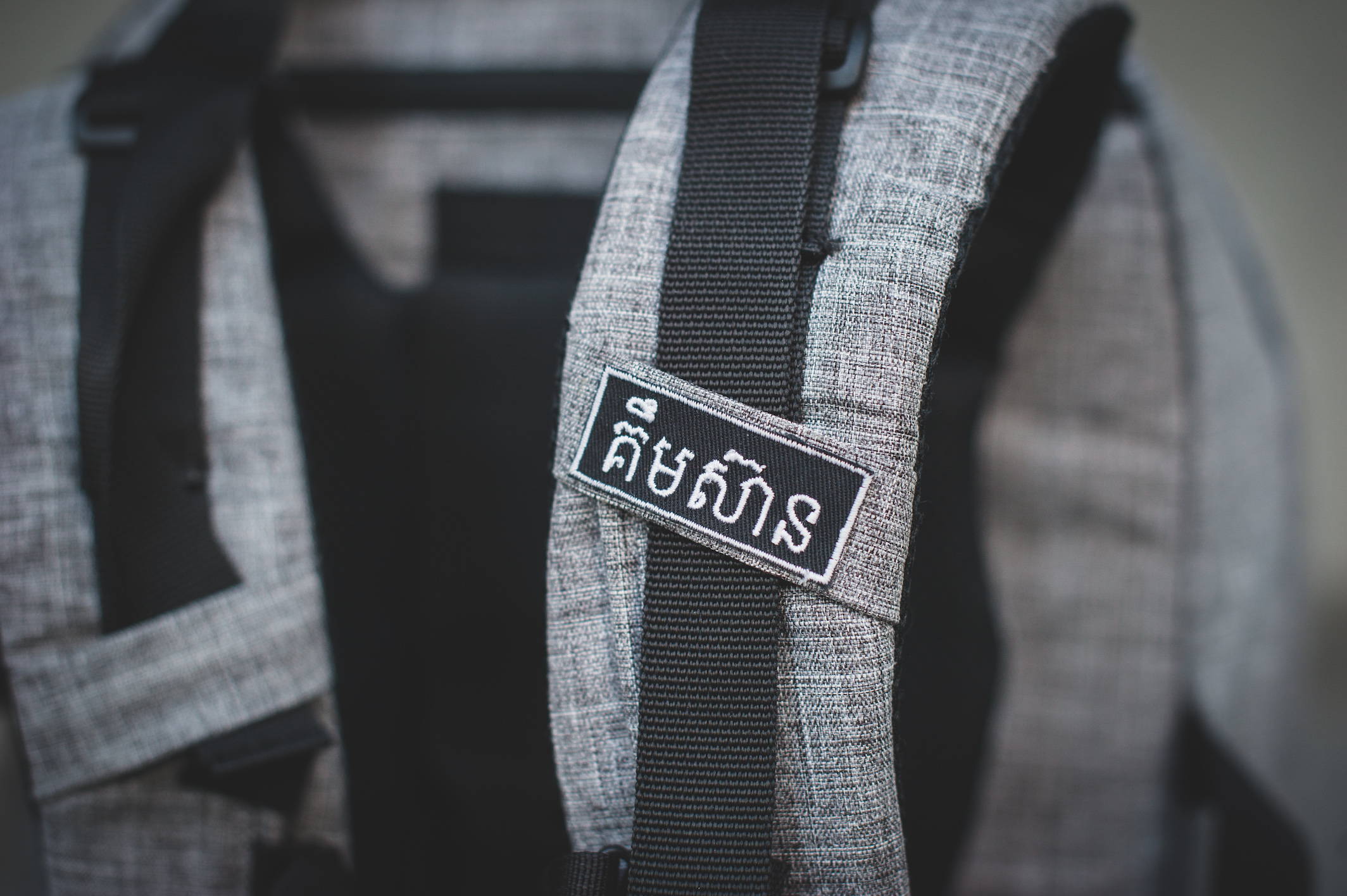 Uniquely Individual.
Every Khmer Explorer supports the education of a deserving Cambodian child. The name of the individual child supported is elegantly embroidered on the heart (left) strap in the Khmer script of Cambodia. You may meet other travellers with a Khmer Explorer, but your backpack and impact is uniquely yours.
Seamless Organization.
From a one week yoga retreat in Bali to a two year odyssey around the globe, the Khmer Explorer has been designed to optimize how you carry your gear. A three-piece removable packing system integrates seamlessly into the spacious back compartment, helping organization come naturally to even the least organized traveller.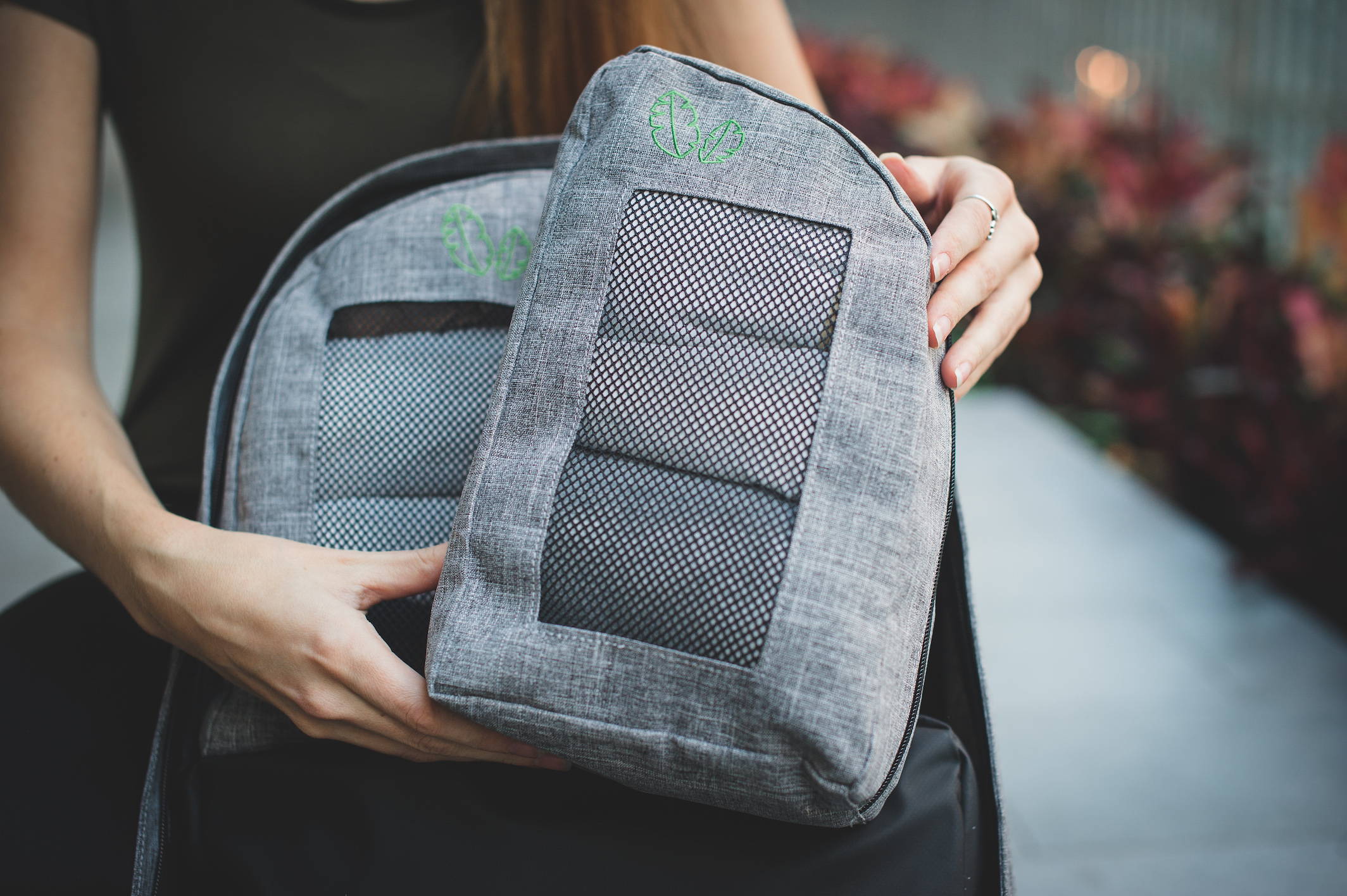 Two Integrated Packing Cubes.
Perfect for organizing socks, shorts or shirts, these packing cubes are designed to fit perfectly into the back compartment of your Khmer Explorer.
Easy-Clean Dirty Laundry/Shoe Bag.
Keep dirty clothes, muddy hiking boots and wet swim gear away from the rest of your luggage using this easy to clean bag.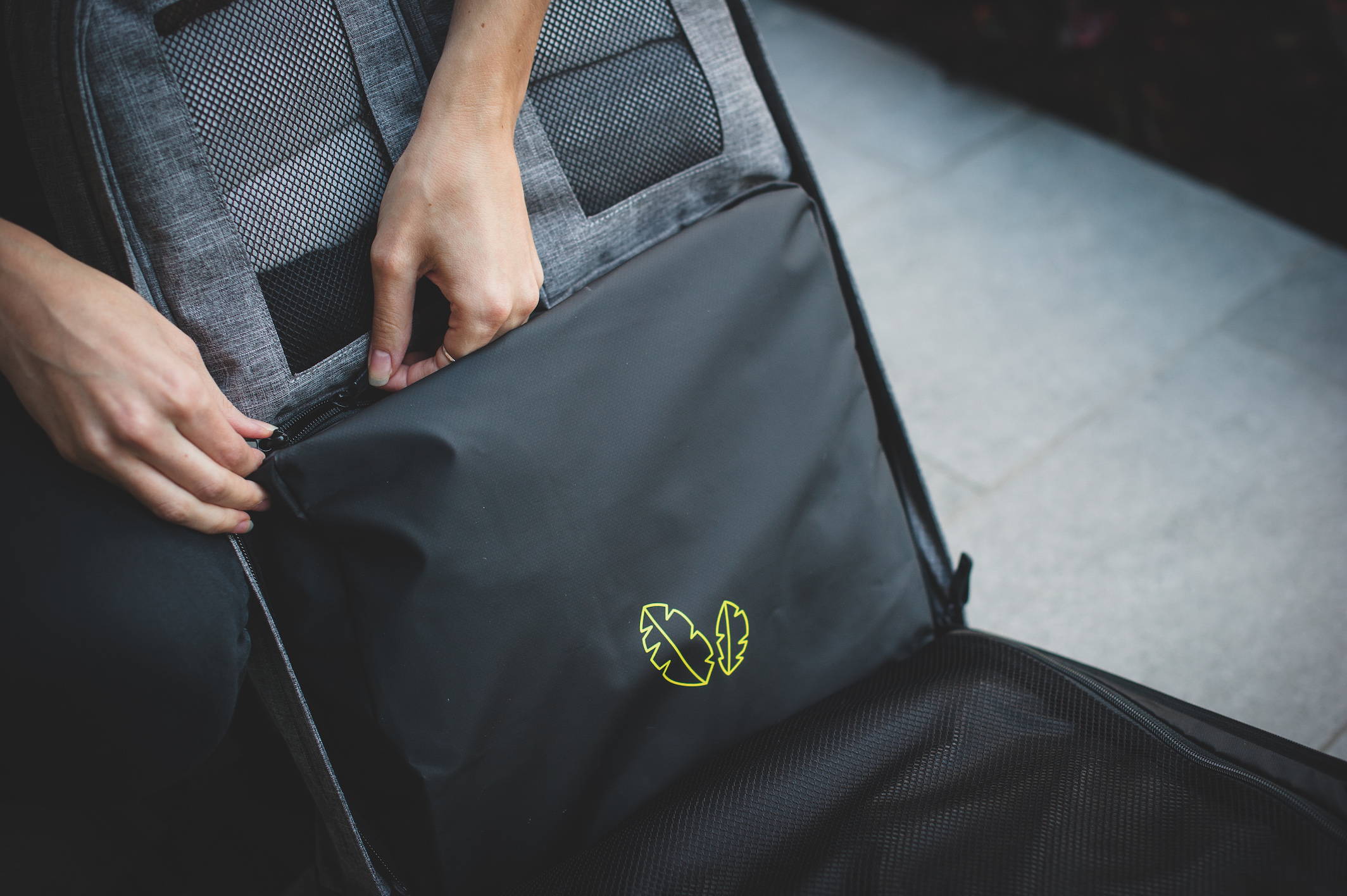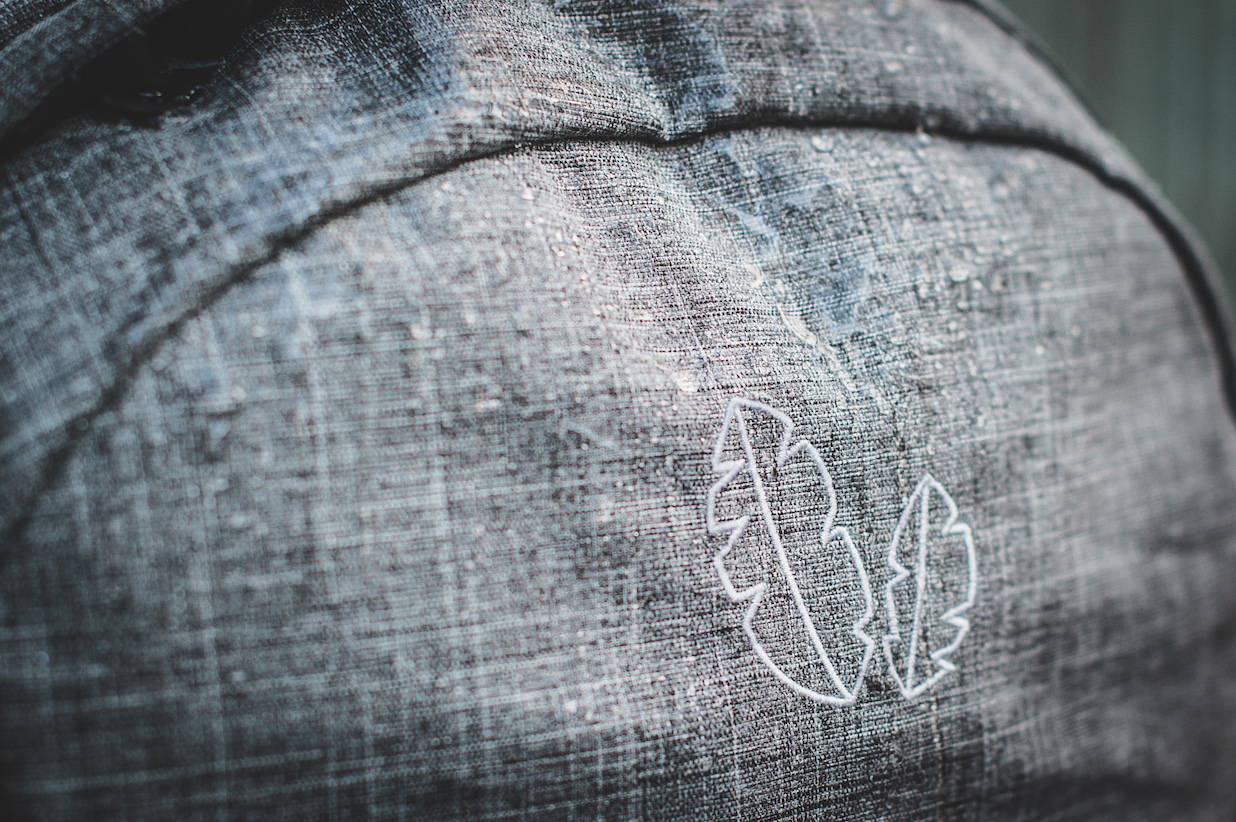 Environmental Resilience.
The Khmer Explorer's twice coated 500D Kodra exterior is fully weatherproof and built to keep your belongings dry no matter what the unpredictable world of travel throws at you.
Lockable YKK Zippers.
Keep thieves out and your gear safely stowed away with lockable zippers on both of the Khmer Explorer's main compartments.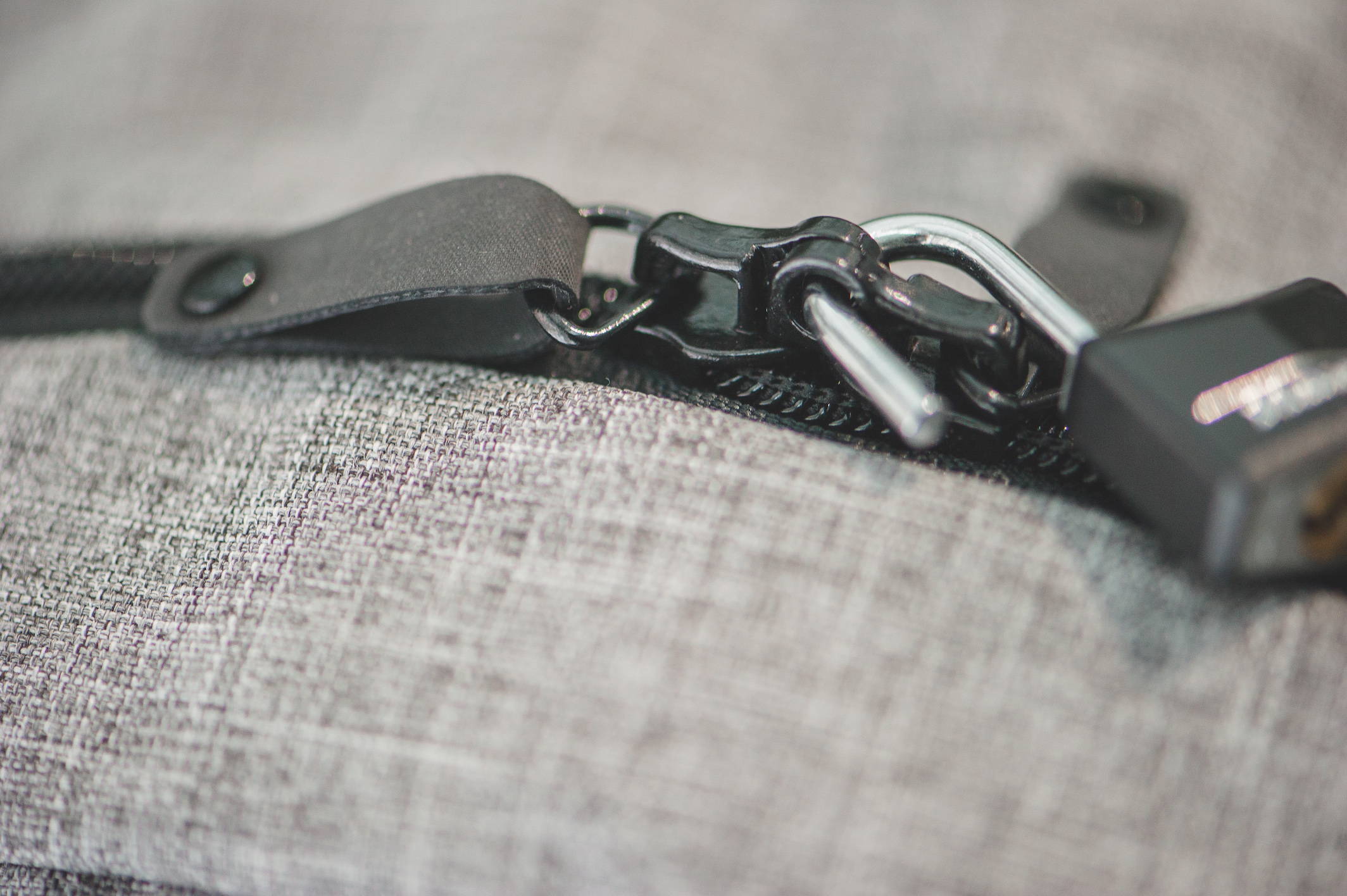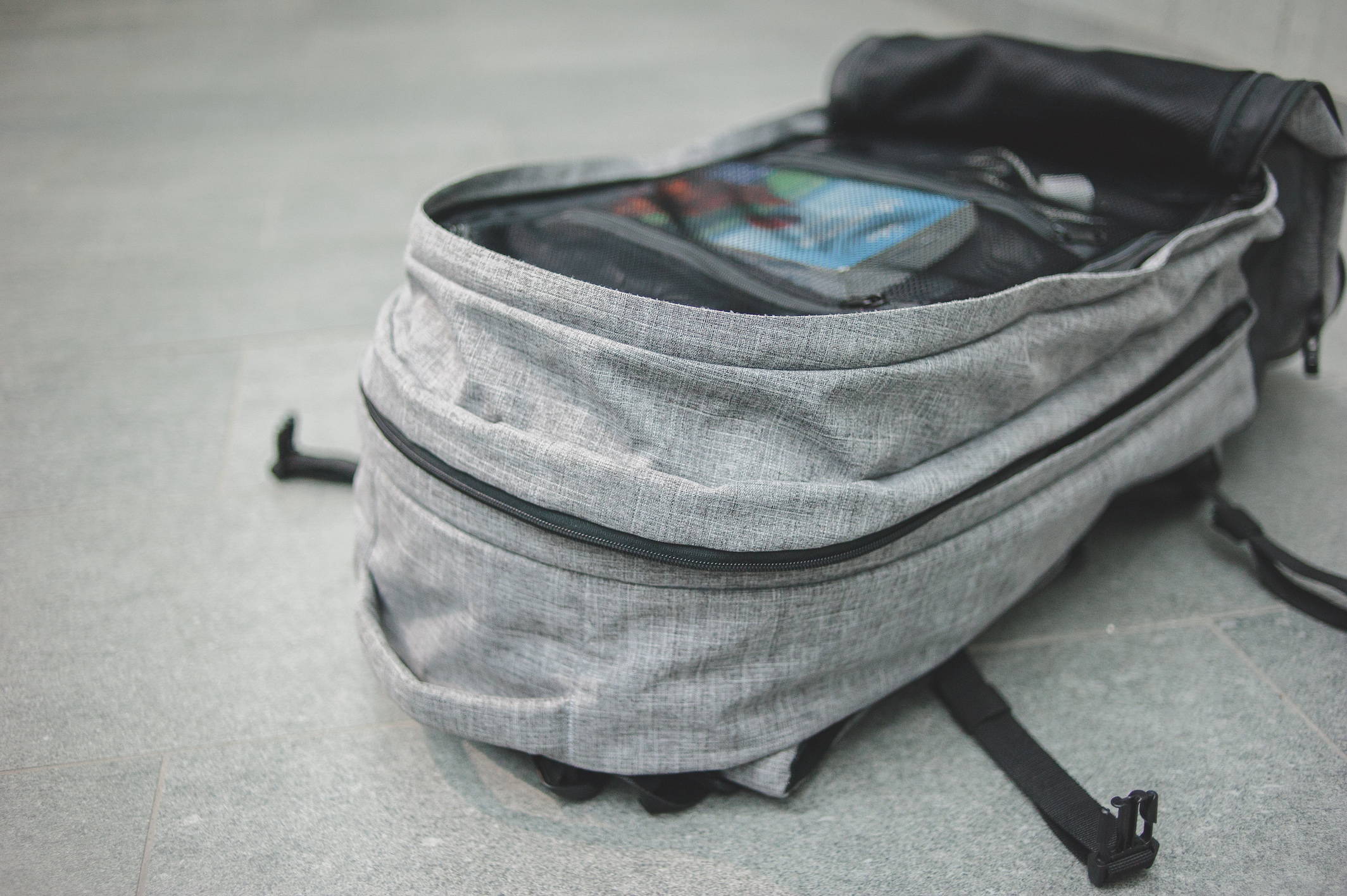 Open Flat, Easy-Access Design.
Access all of your gear easily and efficiently through two huge, flat-lying compartments. Say goodbye to digging through layers of gear in a cumbersome top load backpack.
 
Easy-Access Front Compartment.
Provides a perfect home for items you need quick and easy access to when moving from airport to hotel, or from hostel to bus station.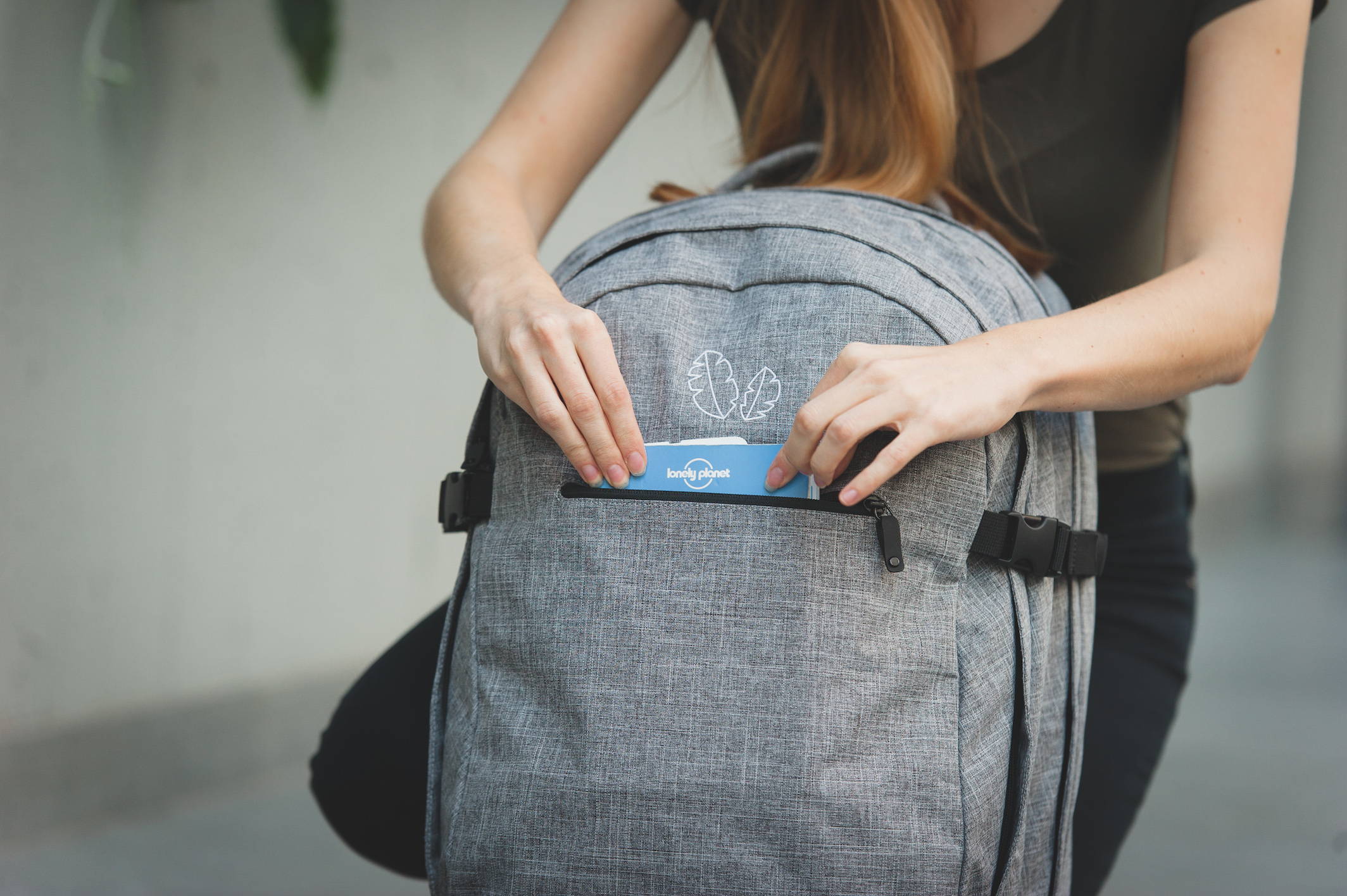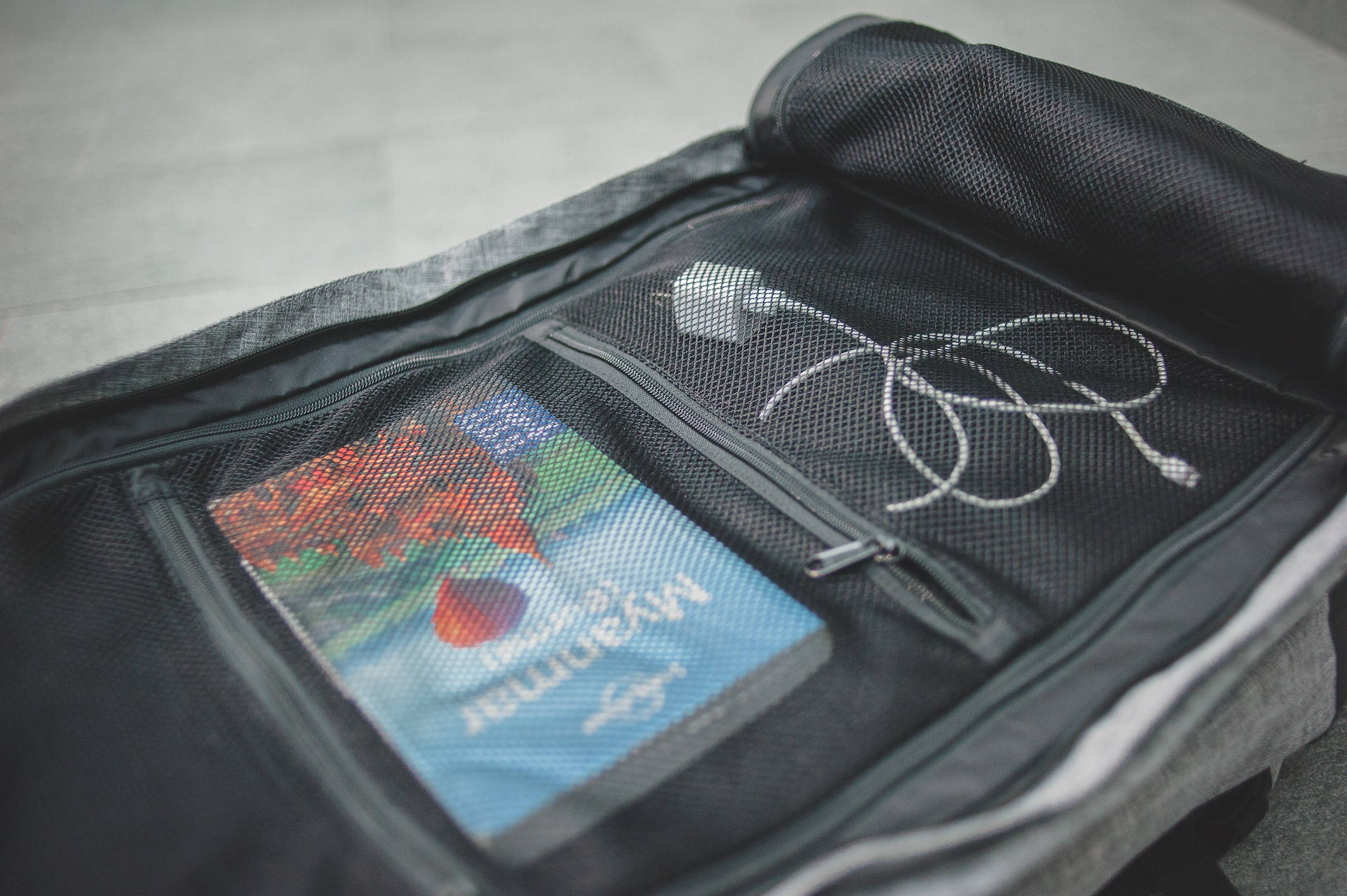 Mesh Separators With Built-In Pockets.
Provides optimal storage space and flexibility for electronic devices, cords or clothing.
 
Secret Interior Compartment.
Allows you to stash your valuables where they can't easily be spotted. Perfect for keeping important items tucked away in rooms without safes or lockers.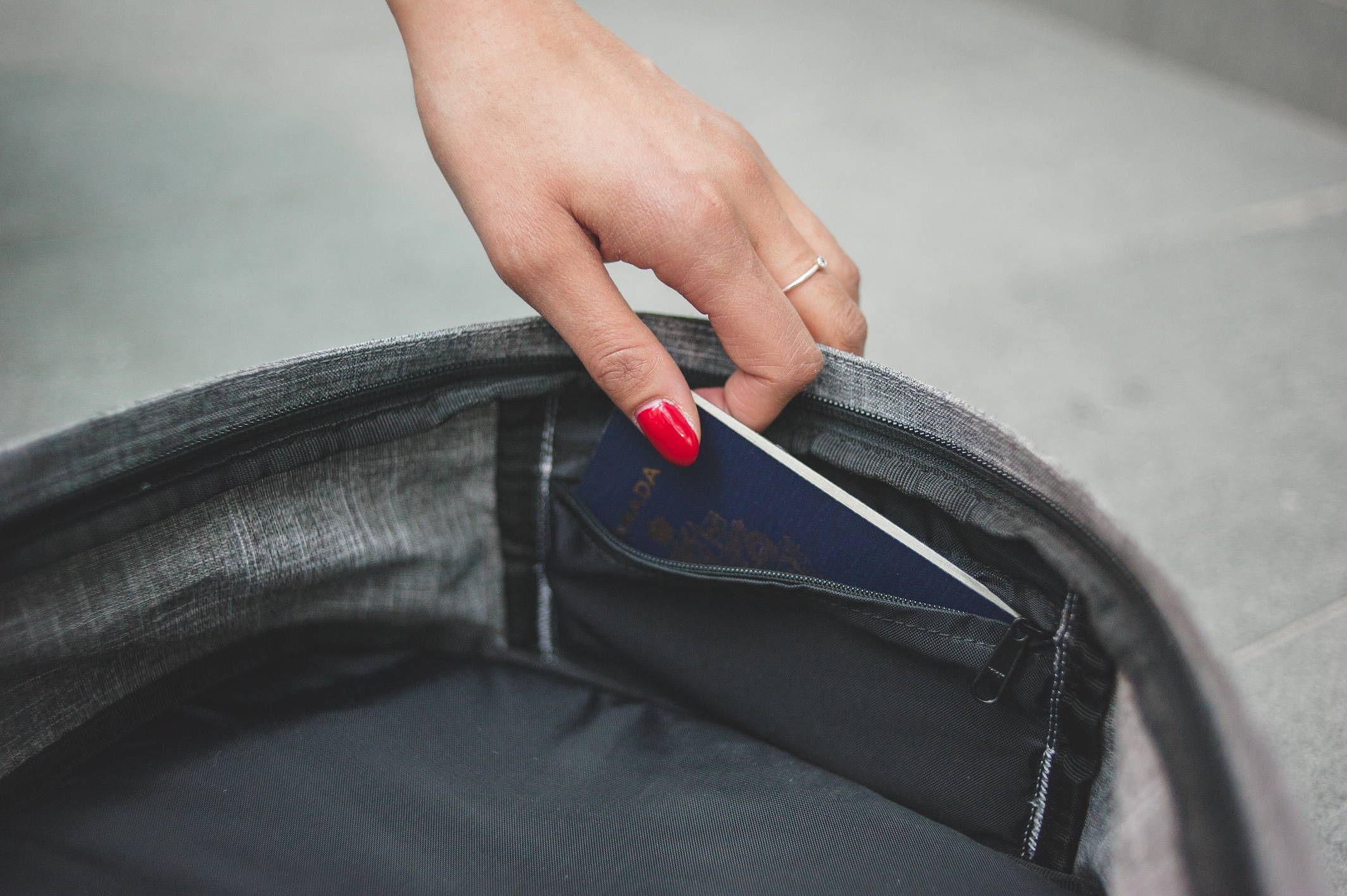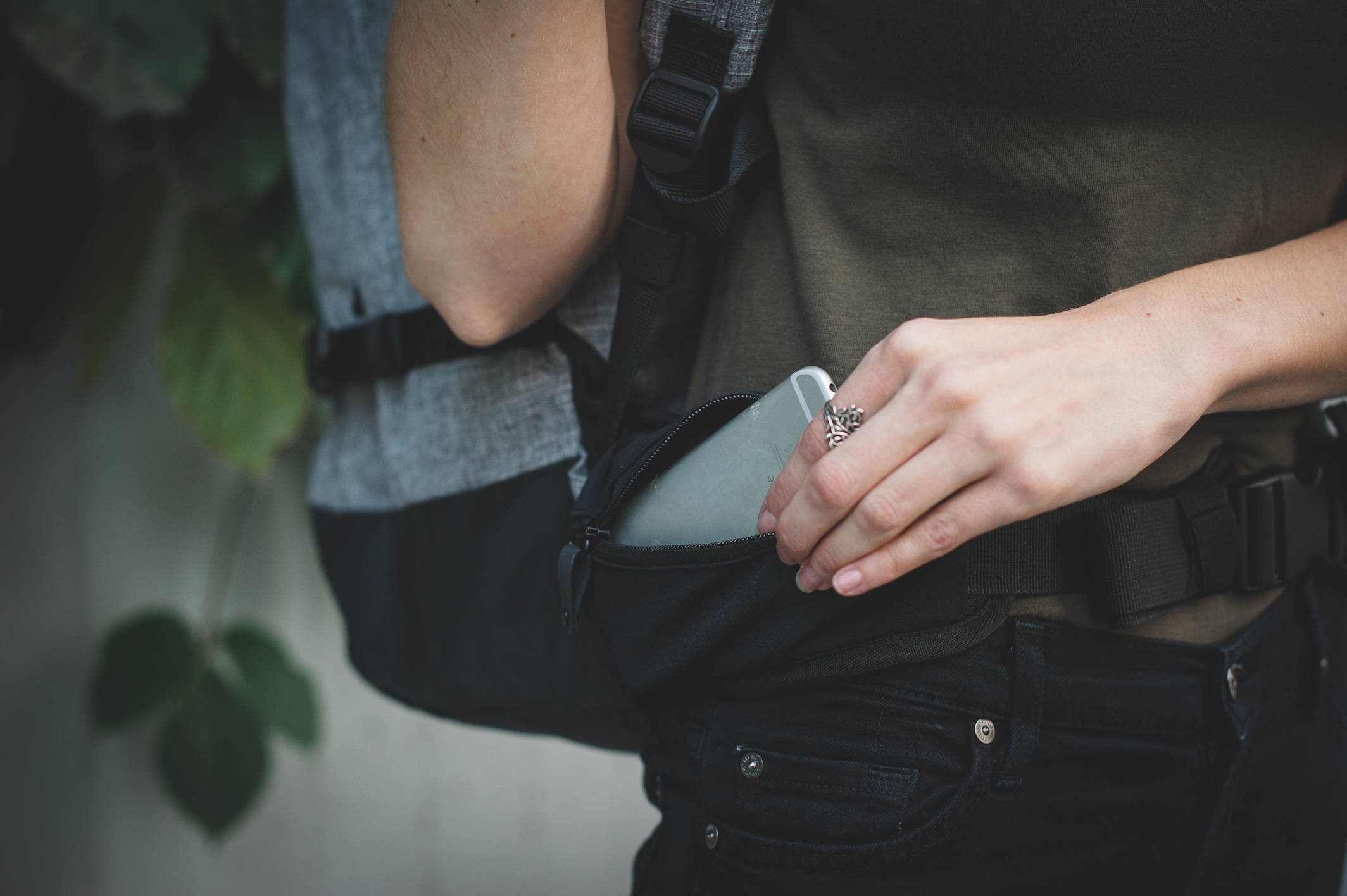 Hip Belt Pocket.
To keep your phone or cash nearby when moving through busy markets, streets or train stations.
Ergonomic Features.
The Khmer Explorer doesn't look like a hiking backpack, but it can certainly carry loads like one. A fully adjustable suspension system allows you to adjust the size of the bag to fit your torso. Plus a built-in aluminum frame system and a concealable hip belt take up to 80% of the weight off your shoulders. This allows you to focus on exploring your new destination, not the pain of an aching back or strained neck.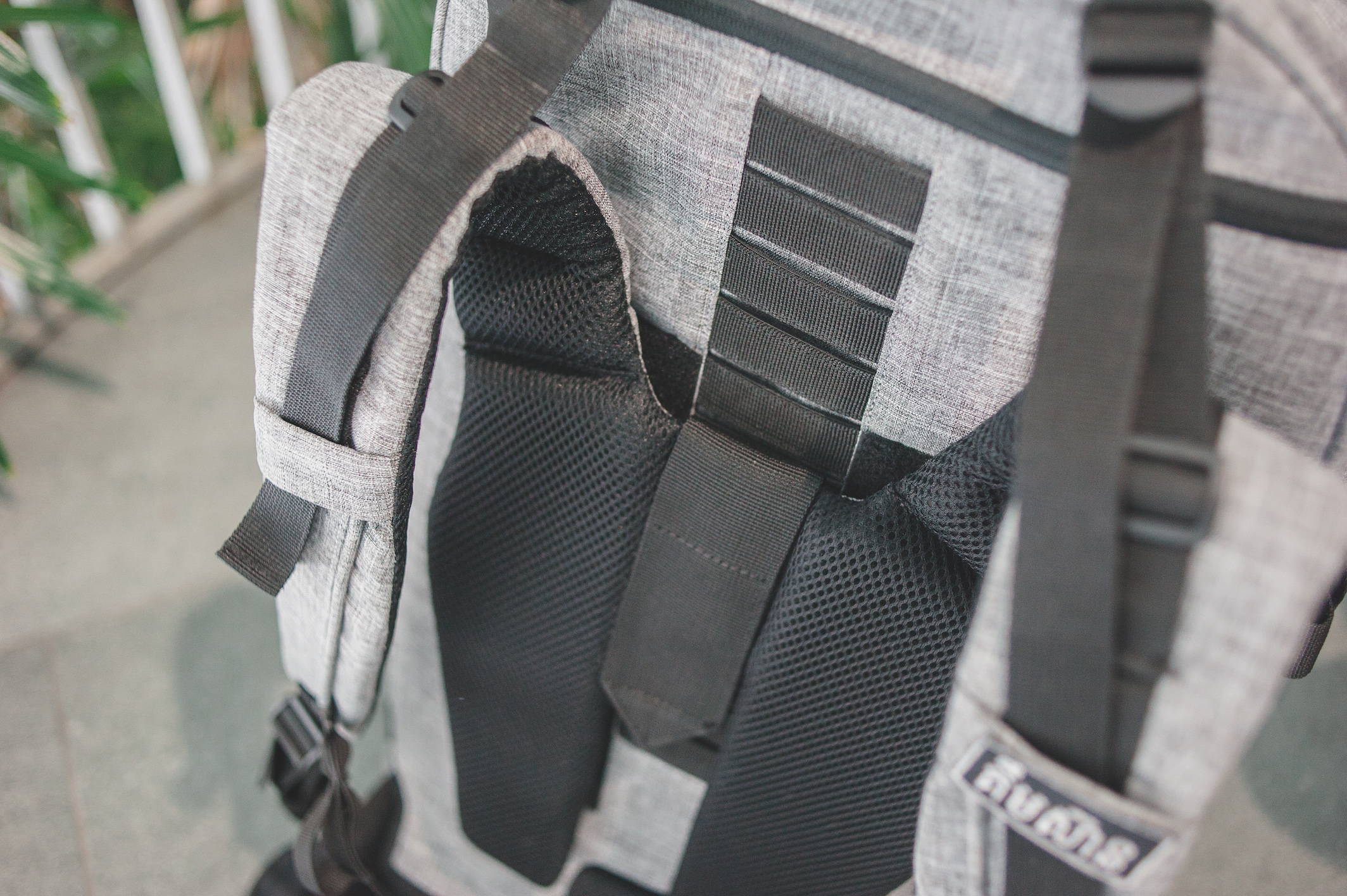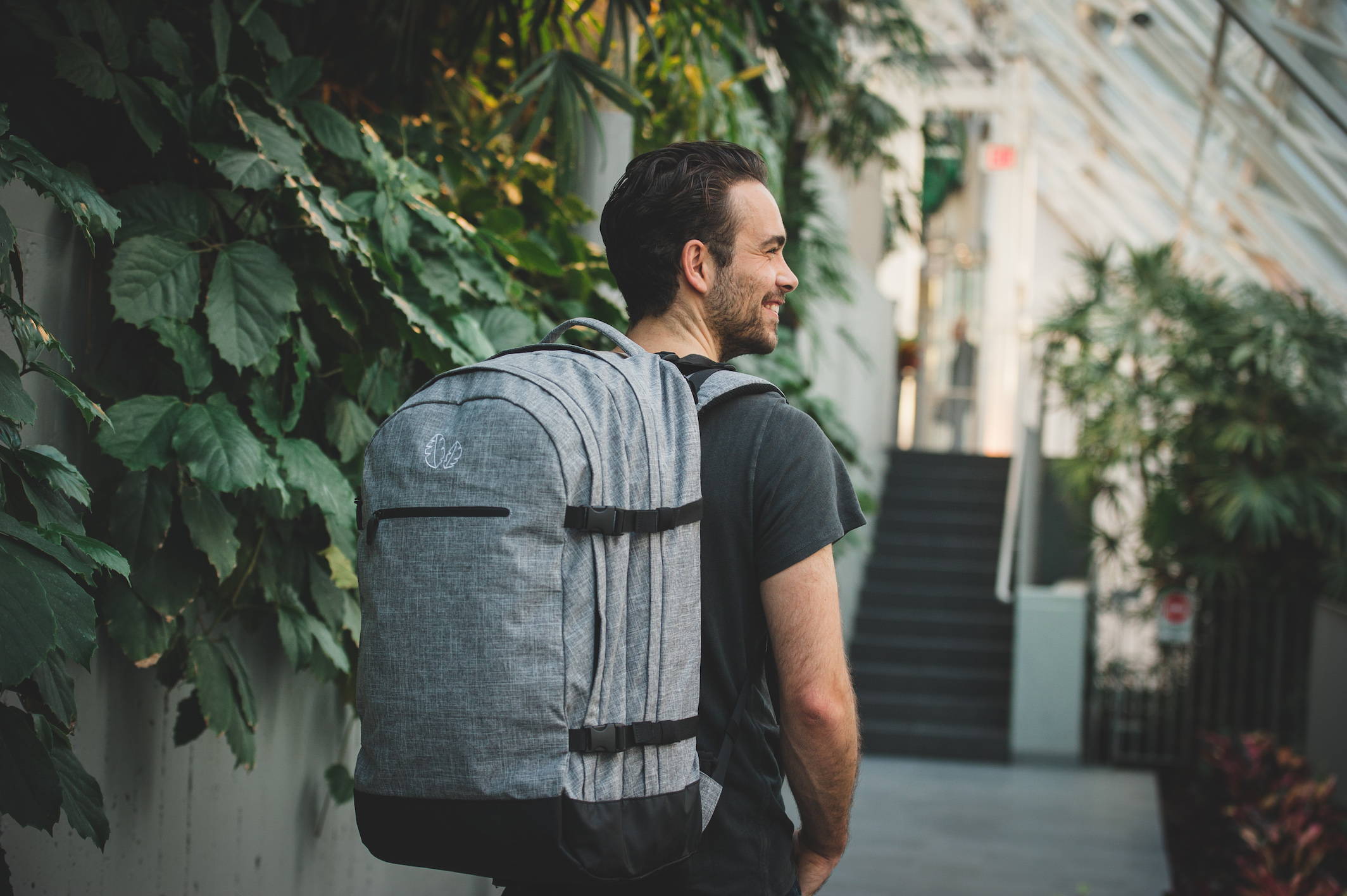 Four Adjustable Compression Straps.
Bring heavy loads closer to your back, making carrying lots of gear that much easier. The Khmer Explorer's compression straps also provide a convenient place to attach a tripod, yoga mat or carabiners.
 
Travel Mode.
Checking your Khmer Explorer at the airport is a breeze. Simply remove the shoulder straps, tuck them away in the back zip compartment, and slide the hip belt straps into the integrated pouch. No more anxiety over straps catching in luggage carousels.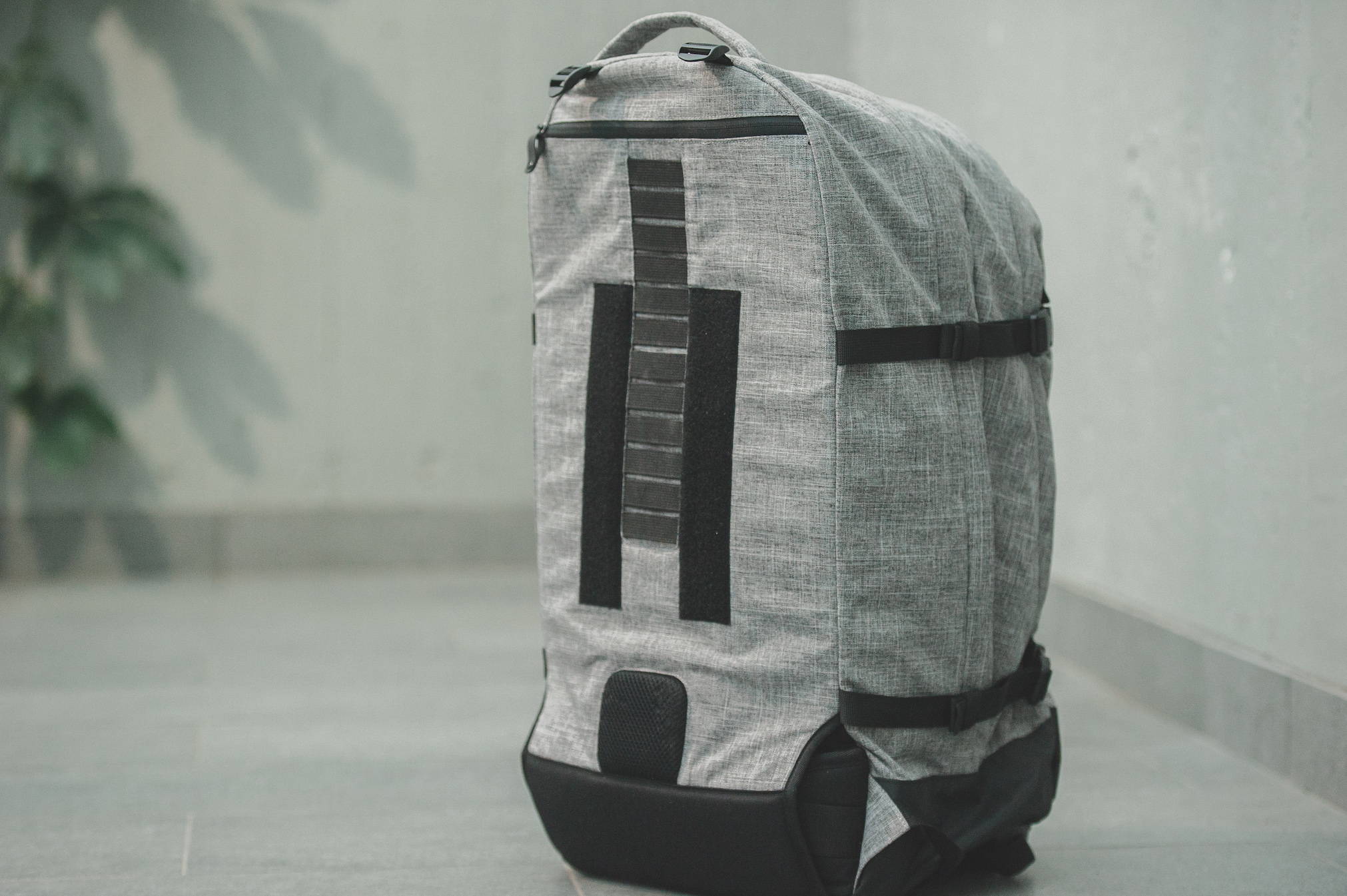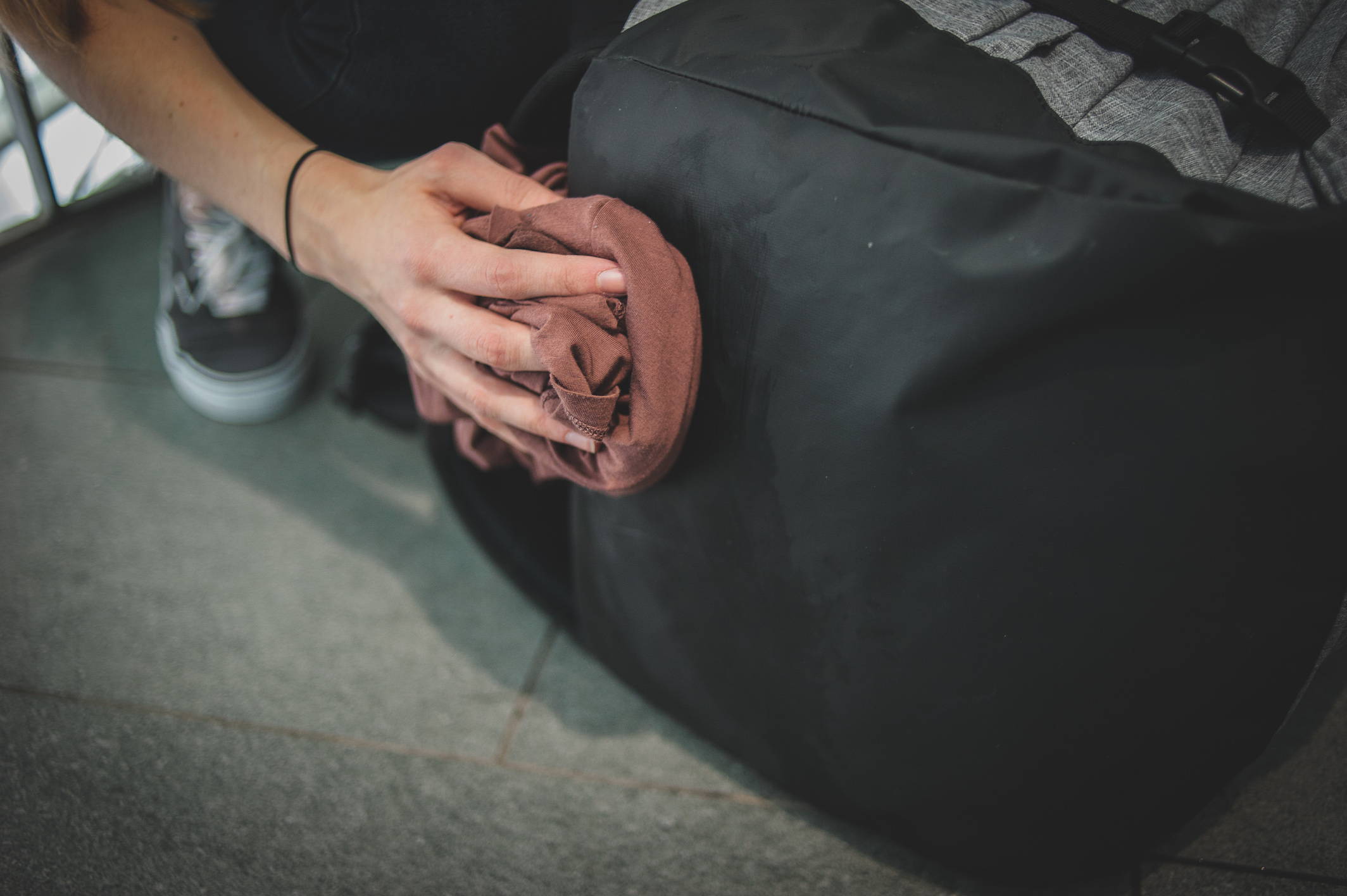 Easy-Clean Bottom.
Even the dirtiest floors are no match for the Khmer Explorer's easy clean and durable tarpaulin bottom.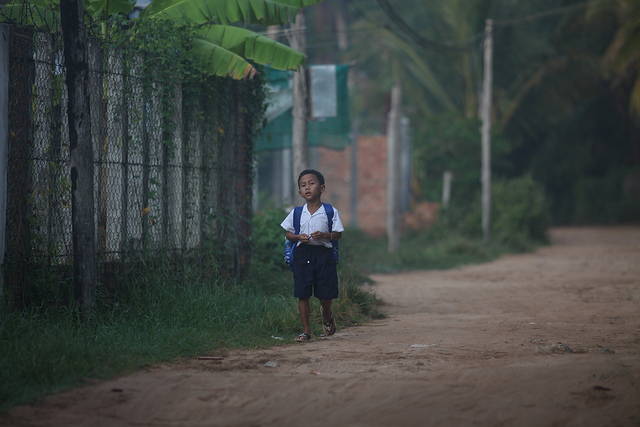 The Problem.
Between 1975-79 the country of Cambodia faced a genocide that took the lives of over 1,700,000 people including 80% of teachers. A growing economy and tourist numbers over recent years have brought the hope of increased opportunities in Cambodia. Yet the country continues to face enormous roadblocks to ensuring every child has access to basic education. Extreme poverty levels force many families to choose between sending children to school and having enough food to eat. These difficulties result in an enrollment drop of over 50% from primary school to secondary school.
A Solution.
Every Khmer Explorer provides two meals a day for a child at school for one year thanks to the help of our partner, Caring for Cambodia. These schools are located in Siem Reap province, where most of the population does not have adequate food security and survives on less than 1 U.S. dollar a day. By providing two meals a day, families are encouraged to register, send their children to school, and discourage them from dropping out. Through addressing the immediate need for food, we hope to help address the long-term need for education. We believe in the power of education for sustainable economic and social development.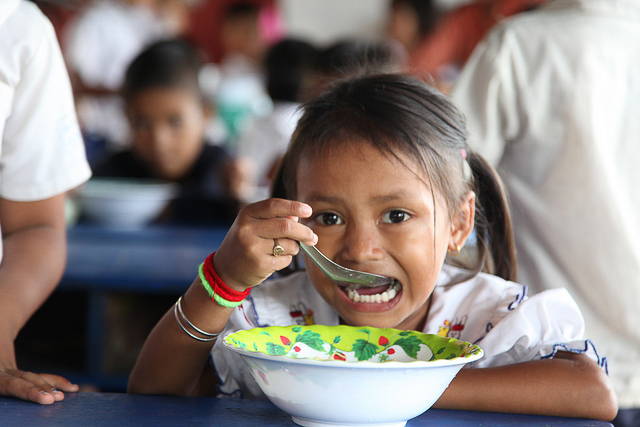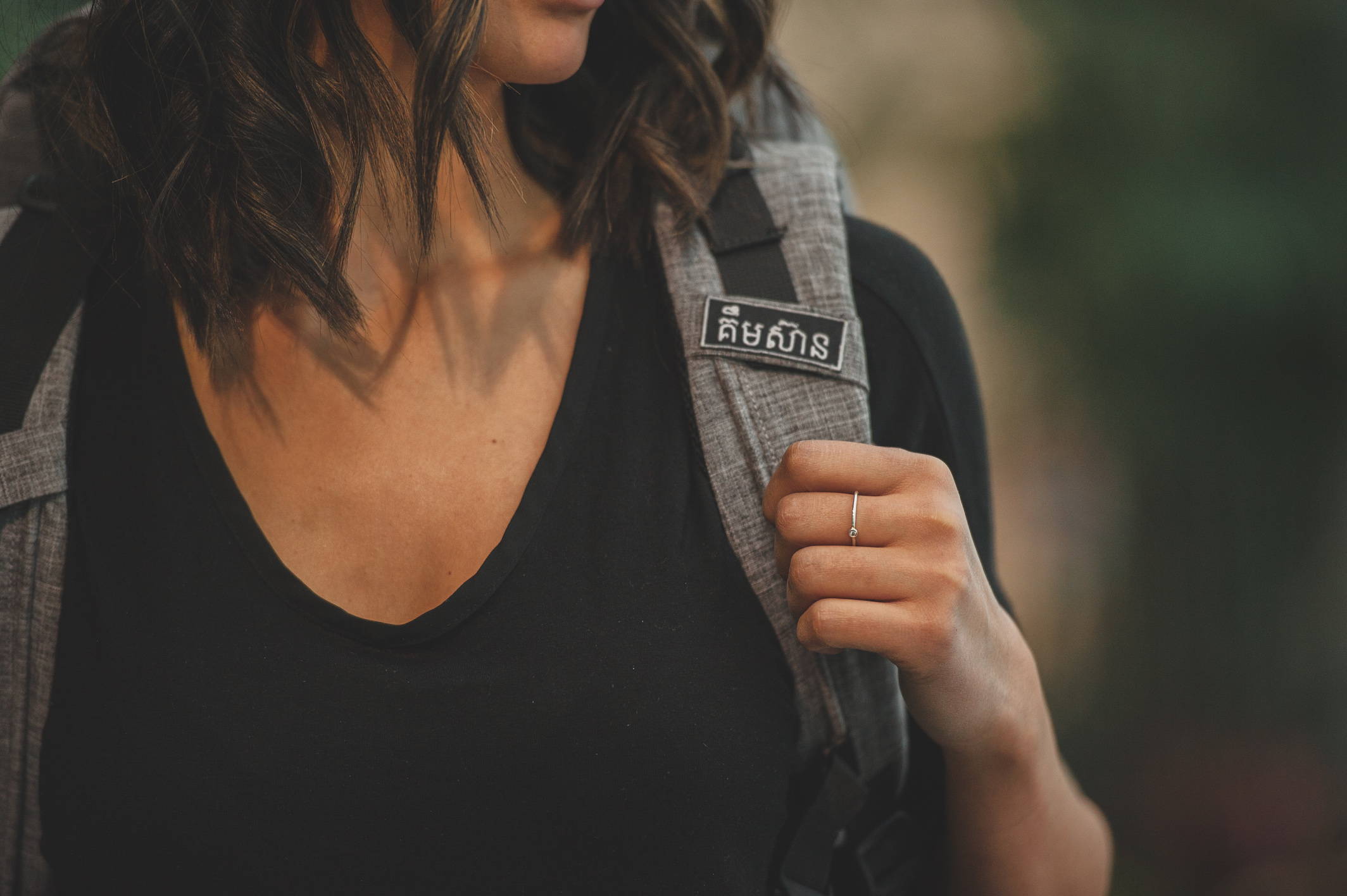 How You're Helping.
By purchasing a Khmer Explorer you've positively impacted the life of a Cambodian child and helped improve the future of an entire nation. The name of the child your purchase supported is embroidered in Khmer (the script of Cambodia) on the left strap of your backpack, directly above your heart.
Materials:
500D Kodra Nylon
Tarpaulin (Base and Laundry Bag)
Dimensions:
26" L x 13 1/2 W " x 10 1/2" D
66 cm L x 34 cm W x 26.5 cm D
Packing Cube Dimensions:
10 1/2" L X 6 1/4" W X 4" D
26.5 cm L x 15.8 cm W x 10 cm D
Interior Frame:
Aluminum Frame with Plastic Frame Sheet
Front Compartment Dimensions:  
24" L x 13 1/2 W x 4 1/2"D
61 cm L x 34 cm W x 11.4"D
Laundry/Shoe Bag Dimensions:
15" L x 12 1/2" W x 4" D
38 cm L x 31.75 cm x 10 cm D
Capacity:
15.85 gal / 60 L
Rear Compartment Dimensions:
26" L X 13 1/2 W X 6"D
66 cm L x 34cm W x 15 cm D
Front Accessory Pocket Dimensions:
9" L X 7 1/2 W'
23 cm L x 19 cm W
A limited quantity of first run Khmer Explorer Travel Sets are avaliable as a pre-order exclusive. By pre-ordering, you guarantee you're one of the first to travel the world with a Khmer Explorer Travel Backpack.
Pre-ordered Khmer Explorers also receive an exclusive Original Explorer 2" x 2" embroidered patch sewn onto the interior mesh pocket. A small, but exclusive detail limited only to this small quantity first production run.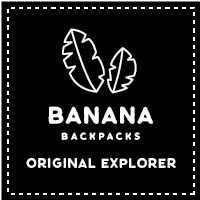 Timelines.
Our first Khmer Explorers are scheduled to arrive at travellers' doorsteps by the end of May of 2018. We do our best to be conservative in our estimates. While extremely unlikely, delays with customs processing or other events outside of our control may occur, and we cannot guarantee that you will receive your bag in time for that big trip you may be leaving for on May 17 or 28. You'll be notified as soon as your Khmer Explorer has been packed and is on its journey to your doorstep.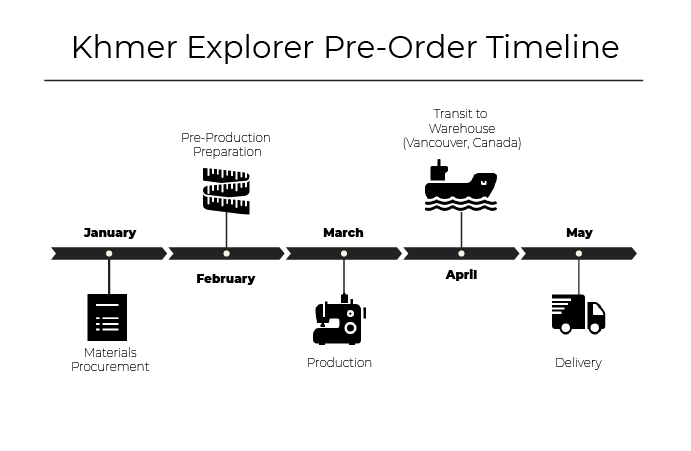 Fabric Upgrade.
The exterior fabric of the Khmer Explorer has been upgraded from generic polyester (as shown in the photos) to premium Kodra nylon to ensure your bag can handle anything you throw at it. This upgrade means extreme durability and abrasion resistance. It also means a slightly darker shade of grey than shown in the photos. Here's a sample of the colour swatches.

Generic Polyester Fabric (as shown in images)
New Fabric: Kodra 500D Nylon